Two/Three Track Sliding Aluminum Windows System
| | |
| --- | --- |
| Цена за штуку: | 180 USD |
| Количество минимального заказа: | 100 Square Meter |

| | |
| --- | --- |
| Подробности Упаковки: | customizned |
| производительность: | 30000SM |
| марка: | KLUK |
| транспорт: | Ocean,Air |
| Место происхождения: | China |
| Способность поставки: | 30000SM |
| Сертификаты : | ISO14001, ISO45001,ISO9001 |
| Порт: | shenzhen,nansha,guangzhou |
Описание продукта
Yonglong Aluminum New Series Two/Three Track Sliding Windows System Profiles for Building and Construction Engineering

Product Name

Yonglong Aluminum New Series Two/Three Track Sliding Windows System Profiles for Building and Construction Engineering Project

Implements Standard

GB5237.4-2008

Grade

6000 Series

Thickness

0.8-5.0mm

Temper

T3-T8

Color

Champagne,

Silver White,Black,Bronze,White,etc

Surface Treatment

Anodized,Powder Coated,Electrophoresis,Wood Grain,Polishing,Brushing,etc

Length

6m or base on demand

Package

1.protective film for each profile;

2.wrap with shrinking bag,pearl cotton or carton;

3.Packing according to customer request;

Load

Around 13tons For 20GP And 25tons For 40HQ
Aluminum Profiles Advantages:
1. Compared with other commonly used metals, the density of aluminum profile Bai is smaller and lighter. The density of Du is only 2.70 g / cm3, which is 1 / 3 of copper or iron. In the process of using Zhi, the required bearing capacity is not considered at all.
2. In the production process, aluminum profiles are treated by two processes, hot and cold, which have strong corrosion resistance.
3. Aluminum profile has good ductility. It can be made into light alloy with many metal elements, with high quality.
4. Compared with other metal materials, aluminum mold has strong plasticity, good productivity and good advantages for production.
5. Aluminum profiles have good casting properties and can be processed into different shapes of aluminum profiles.
6. The surface treatment performance is good and the appearance color is bright.
7. The chemical property is stable, non-magnetic and can be recycled. It is a kind of benign and recyclable metal material.
8. Small elastic coefficient and no spark in collision and friction make the best performance in automobile technology.
9. It has good thermal conductivity and conductivity, and is outstanding in short distance transmission.
10. Compared with other metal materials, aluminum profiles have no metal pollution, no toxicity and no volatile metal on the surface oxide layer.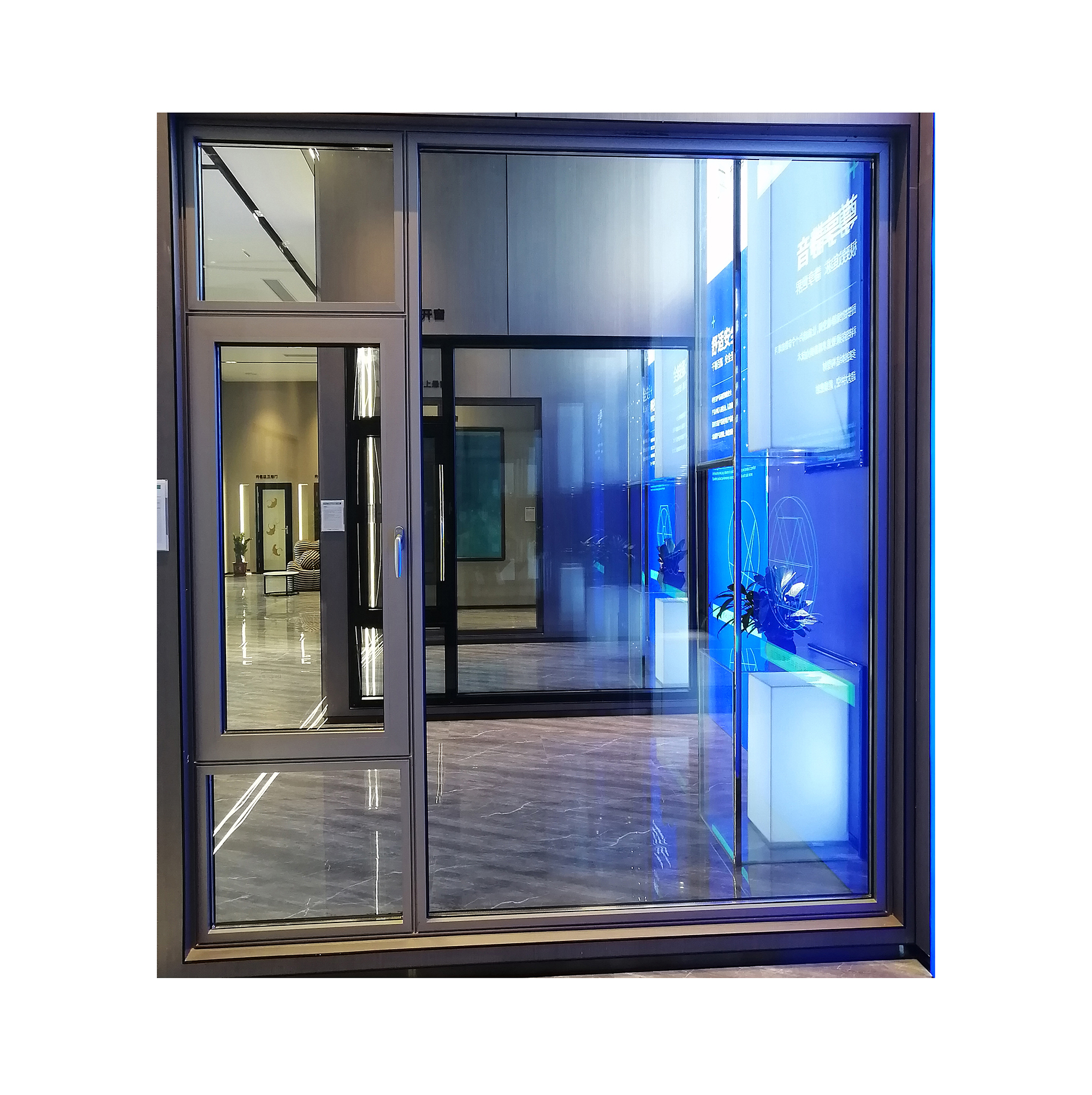 Corporate Introduction:
Guangdong Yong long Aluminum Co., Ltd. is located in the No. 10 (Sanjiang market) of Leping Town, Sanshui District, Foshan. The company was founded in 1997. It is a comprehensive and large-scale aluminum profile enterprise integrating the research and development, production and sales of aluminum alloy profiles. The company is leading the "Hong Ying" brand. Strong comprehensive strength and excellent service make Yong long "Hong Ying" sell well all over the country and exported to Southeast Asia, Europe, South America and many other countries.
Our company has 900 employees, including 120 high and intermediate engineering technology and management personnel, with advanced and perfect design, production, testing and testing methods as well as perfect sales network and after-sales service system. The products sell well in more than 10 national and foreign ports, Australia and Taiwan areas.
Corporate Advantages:
1.20 years' experience and advanced equipment
2.Customize: We can manufacture according to your size and shape of such aluminum profile;
3.Strong production capacity - 28 extrusion lines, 50,000TONS/Year
4.One Stop Service Specialized in mould, extrusion, anodizing, powder coating, wood grain and Processing;
5.Shortest Delivery , competitive prices and excellent service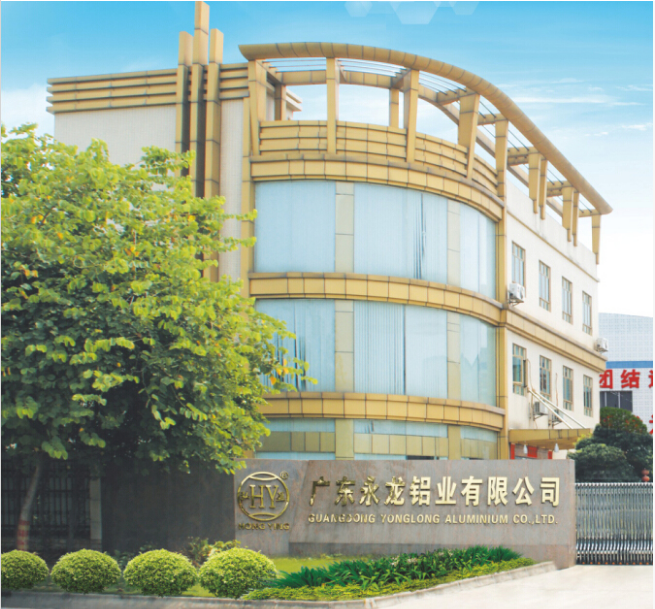 Certificates: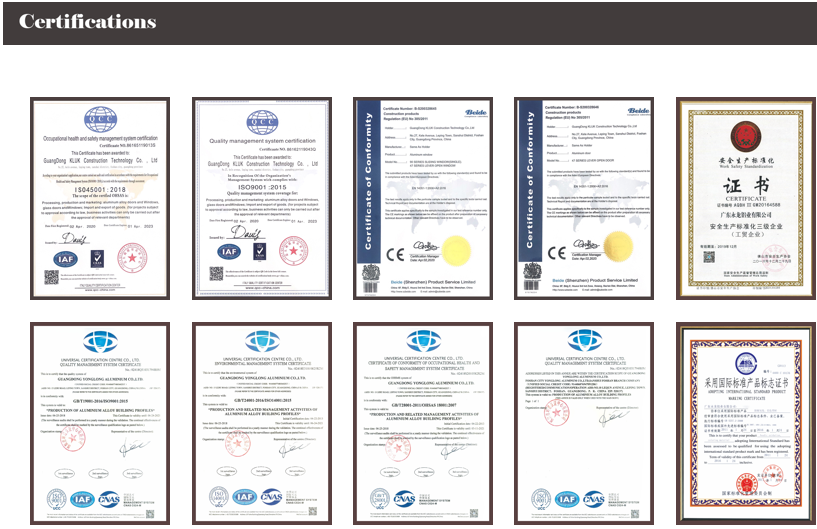 Types of windows:

Just as there are many different types of homes, there are many different types of windows and doors. Which one you choose depends on what kind of look you want for your home. Some prefer the abundance of natural light that comes from floor-to-ceiling windows, while others enjoy the hinged operation and even airflow that a casement window affords.
Choosing the right type of window or door is not a simple matter and it requires special attention. You can choose among hinged windows, sliding windows, lift & sliding windows, pivot windows and folding doors. The most important factors which should be taken into account are the width of the spans in which the window or door will be placed, the available interior space (space boundaries, presence of furniture etc.) and the required performance regarding air and water tightness, thermal insulation, sound insulation and security.
Casement Windows
Casement windows provide excellent levels of thermal insulation, sound insulation and tightness against air and water. However, they cannot cover large spans, over 2,00 m wide, even in the case of a double-leaf patio door. They also require the appropriate amount of space inside, so that the window or door can be opened without barriers.
Yonglong offers a wide range of various hinged windows and patio doors:
Opening inwards with or without a tilt function
Opening outwards
Top hung windows (that open outwardly from the bottom)
Vertical or horizontal pivot windows
Combination of sliding and hinged window with a deflection mechanism

Pivot Windows
Pivot windows are a suitable replacement window choice for homeowners who wish to include maximum ventilation in a room. The pivot window sash is secured to the window frame by a pivot mechanism, located mid-way along opposing window sashes which attach the window sash to the frame. The window can then swing inwards either horizontally or vertically, depending on the location of the pivot mechanisms. This leaves the sash suspended in the middle of the frame, held by the opposing pivots. A replacement pivot window provides a window frame option that can open completely.

Sliding Windows
Sliding windows and doors are a very good option in case you need to cover spans which have a width larger than 1.70 m. Moreover, sliding windows are the ideal option when you have limited space around your window. Also, for large spans you can use a technologically superior lift & slide system that is much easier to slide and provides an excellent tightness against air and water, thanks to the special lift mechanism that raises the sash, allowing its rollers to glide smoothly on the rail of the frame. Modern sliding windows and doors have come a long way and provide reliable solutions, with excellent functionality.
Yonglo offers a wide variety of sliding or lift & slide windows and doors:
Horizontal sliding windows – In which multiple sliding windows stand next to each other on separate sliding tracks.
Meeting stile windows – In which two sliding windows stand on the same sliding track and are locked at their connection point in the middle.
Pocket windows – Usually, one or two sliding windows which when opened are hidden into to the wall.
Corner windows – Constructions in which two sliding windows make a right angle (90o) and are locked at their connection point in the corner.

Fixed Windows
Fixed windows are fixed to the wall without any closing or opening operation. In general, they are provided to transmit the light into the room. Fully glazed shutters are fixed to the window frame. This type of window is used in situations where light or vision alone is needed as no ventilation is possible through fixed window.

Bi-folding Windows
If there are very large spans and you want easy access to exterior areas, you can choose a folding door solution. Its main advantage is the full or partial folding of the sashes onto the side of the frame. This solution is usually preferred in professional spaces, as restaurants and cafes or in large houses, providing full freedom of movement and easy access.
To sum up, a vast amount of solutions is provided and that is why you should be careful with some details regarding each particular space. Generally, in order to choose the right type of window or door, you should take into account the following:
The span that you would like to cover (length, width, height)
Climate conditions of the exterior environment.
The layout of the house and its furniture
The access to the window or door, so as to open/close it as well as to be able to clean it inside and outside.
The level of security you want to achieve.
Finally, having your safety and better quality of life in mind, all windows and doors can optionally be combined with insect screens, shutters and rolling shutters. Yonglo offers a wide product range which ensures that you will find the solution that corresponds perfectly to your needs.
Please tell us the information below, and we will give the best suggestion to you !
1. Where you intend to use the aluminium profiles?
2. If you have the estrusion drawing, send us and we develop the correspondence mold.
3. Which color you want or tell us the architectural style you like.
4. Purchase quantity. It will convenient us to give you the best price.
Guangdong Yonglong Aluminum Co.,Ltd
Штаб-квартира Guangdong Yonglong Aluminium Co., Ltd. находится по адресу № 10 Lequn Avenue, Leping Town, Sanshui District, Foshan. Компания была основана в 1997 году. Это крупное крупное предприятие по производству алюминиевых профилей, объединяющее НИОКР, производство и продажу профилей из алюминиевых сплавов. Компания возглавляет руководство алюминиевым брендом Hongying и брендом окон и дверей высокого класса Konuk KLUK. Благодаря сильной комплексной силе и высококачественному обслуживанию продукция Yonglong хорошо продается по всей стране и экспортируется в Юго-Восточную Азию, Ближний Восток, Европу, Южную Америку, Северную Америку и многие другие страны и регионы.
В нашей компании работает около 1000 сотрудников, в том числе 150 старшего и среднего инженерного и управленческого персонала. Он имеет старшую группу исследований и разработок, внедряет современное производственное оборудование и технологии тестирования и инспекции, а также создает полную сеть продаж и систему послепродажного обслуживания. Продукция продается по всей стране. А также регионы Гонконг, Макао и Тайвань, а также более 30 стран Юго-Восточной Азии, Европы и Северной Америки.
Наша компания имеет 25 современных линий по производству алюминиевых профилей и 35 комплектов оборудования для контроля качества, объединяющих плавку и литье, пресс-форму, экструзию, механическое матирование, анодирование, электрофоретическое покрытие, порошковое напыление, термотрансферную древесину, производственные линии теплоизоляции, впрыск клея. / разметка, глубокая обработка промышленного алюминия и внедрение передовых технологий обработки поверхности ванны из фарфора. Благодаря своим превосходным технологиям и мастерству он стоит на переднем крае алюминиевой промышленности и высоко ценится покупателями. После многих лет развития компания прошла сертификацию системы менеджмента качества ISO9001: 2015 и сертификаты продукции по международным стандартам.
название компании: Guangdong Yonglong Aluminum Co.,Ltd
представитель: Weiwen Chen
Продукт / Услуга: Алюминиевые профили , Экструзия алюминия , Алюминиевые окна , Алюминиевые двери , Алюминиевые ненесущие стены , Алюминиевая опалубка
капитал: 10,000,000RMB
Год создания: 1997
Годовой Оборот: US$50 Million - US$100 Million
Процент Экспорта: 61% - 70%
Общий годовой объем покупки (млн. долл. США): US$5 Million - US$10 Million
Число производственных линий: 25
Число научных сотрудников: 11 -20 People
Число работников Отдела контроля качества: 11 -20 People
OEM услуги, предоставляемые: yes
Плошадь завода (м2): 10,000-30,000 square meters
Адрес Завода: No.10 Lequn Avenue,Leping Town,Sanshui District,Foshan City,Guangdong Province, P.R. China
Контактное Лицо: Ms. Susan
Номер Телефона : 86-757-87392211